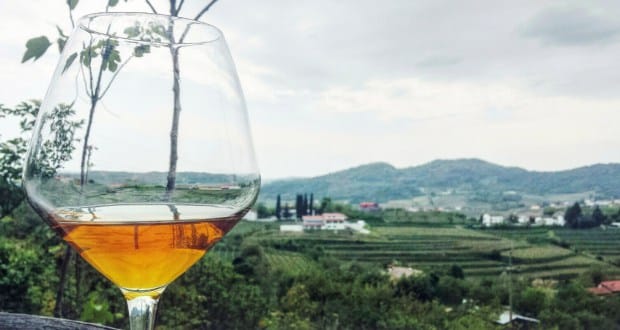 Great Wine, Nice Country – A Recipe For Attracting Foreigners To Brda
This week it was practically impossible to find a vacancy in the Gorška Brda region – despite a threatening, almost apocalyptic weather forecast. Just the traditional wine & culinary festival Brda & Wine attracted three busloads of visitors from Austria. The same week the event Spring in Medana took place as well, and on Sunday, both local inhabitants and visitors were already visibly tired.
The Brda, the present Slovenian holder of the "European Destinations of Excellence" title, have pleasant worries – how to turn away guests in a nice manner. "May 22? I should check first, we have very few vacancies left,"Simona Klinec explained to a guest from Italy who immediately fell in love with the Klinec tourist farm, offering natural wines and delicious home cooking.
"Some people have already made reservations for St. Martin's Day." Yet the guest simply wouldn't go away without at least a recipe for Simona's flourless chocolate cake. Her brother-in-law and his wife at Plešivo, Uroš and Nejka Klinec, have even more reservations; they have no vacancy until the end of October.
The Brda region is fortunate as it is located next to the border with Italy, and tourists from Italy make a large part of their guests, although the Italians have their own part of the Brda hills in Italy, ie. Collio. But Joško Gravner, a vintner of Slovenian origin living in Italy, a recognized authority among the natural vintners, known for his persistence in defying all bureaucratic obstacles which make work difficult to all followers of natural winemaking, explained to us that Collio is far, far behind the Slovenian Brda both in activities, and active promotion.
To Slovenia for fuel, and lunch
So Italians still come to Brda on weekends, and for good reasons – some only to petrol station in Neblem to fill up their fuel tanks, others for a glass of wine, and a festive lunch.
Three busloads of Austrians in Šmartno
Quite a large number of our western neighbors could be noticed at the Brda & Wine festival, a traditional event in Šmartno. The organizers from the Marica House discovered the suitable recipe for organizing an event celebrating wine and cuisine. They always attract a large number of visitors, yet all the visitors have enough space to maneuver and can drink a glass or two in relative peace (well, to be honest – in the end, the actual number was closer to 12), and chat with the providers. On Saturday, the picturesque lanes of Šmartno were occupied by stands set by caterers and vintners. The entrance fee was 45 euros, while on the second day only the vintners remained, and the system of vouchers was introduced.
From tripes to cream cakes
The pizza restaurant Pr'Andreju from Brda kept its tradition by luring the visitors with »the best tripe you have ever tasted, guaranteed !«, with generous amounts of homemade olive oil added by the father and son Simčič. Villa Prešeren brought 540 cream cakes, and Koršič from the other side of the border reaped enthusiasm with his herbal noodles with duck ragout, and fried elderflowers, and the former Olympic sculler Jani Klemenčič, now a caterer (Chilli, Bled) stirred a filling barley and bean stew in a big cauldron.
And as if that were not enough, a two-day wine-culinary feast in honor of summer was going on at Bužinel, in Plešivo on the other side of the Brda hills, where Katja Bužinel offered to guests mostly seafood, from oysters to marinated anchovies, pasta with lobster or shrimps … Some of the local vintners offered wine for tasting – and all that only a week after the three-day Rebula wine and olive oil festival in Višnjevik.
Even the vintners themselves had to agree that the schedule lacked sense, and they would prefer more events during winter lull. They will get hardly any rest also after this weekend, as next weekend a lot of them will travel to Izola to the Orange Wine Festival, and in June the Open Brda Cellars have been scheduled, and the Cherry Festival.
Record in Brda
In 2015, there were 28,000 overnight stays in the Brda region, most connected with different events. The promotion of the tourist destination contributed a lot to this result, the destination is becoming more and more attractive for weddings, and a large number of foreign tourists come to Goriška Brda hills while hiking the Alpe-Adria trail. This year new routes were added, e.g. the Štorija trail, Sabotin night march under the full moon, and Olive trail. As explained by the head of the Tourist-Information Centre TIC Brda Erika Kovačič Marinič, this year an increase of the number of visitors to Brda is expected again, higher by 10 to 15%, and the number of overnight stays is expected to rise by the same percentage. At the moment 550 tourist accommodations are available, offered by five small hotels and 20 individual providers