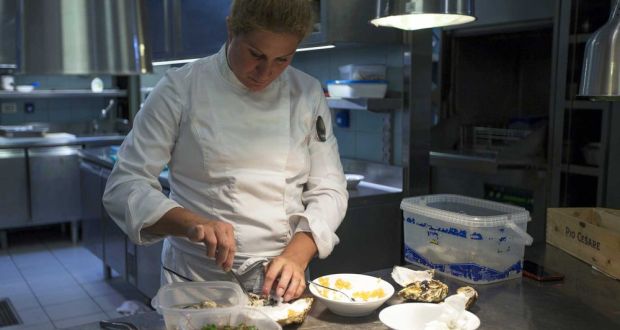 Why Has No One Heard Of Ana Roš?
The Slovenian chef, who's spent 16 years revolutionizing her country's food, is about to star in Netflix's Chef's Table. Will the world finally pay attention?
Photographed in front of a suspiciously still lake on an overcast day, Slovenian chef Ana Roš stands midsection-up wearing nothing but a wire necklace of nine smoked fish skewered through their heads, their bodies fanned out just enough to cover her breasts. She's stunning. Her blonde curls, piled on top her head, are soft; her pale skin glows against the moody backdrop; and her eyes turn upwards like the Mona Lisa's smile.
Then you realize this is her bio page on the website of Cook it Raw, the currently-innactive macho gatherings of global chefs that confronted everything from culture preservation to sustainability. You see the other chefs pictured on the website—Daniel Patterson, Magnus Nilsson, Enrique Olvera, among others—and they're not just wearing clothes, but chef's whites. Roš seems out place; not only is she half-naked, but, as the site reminds you, she was the only woman to have participated at that time.
Read Patterson's bio and learn that he "has shaken up the narrow definition of Northern California cuisine"; check out Roš' and you see that she works "overlooking the sloping hills of Slovenian countryside" at her restaurant Hiša Franko, cooking a cuisine that is "flowery, herbal, feminine whilst as delicate as precise," whatever that means.
When Roš was selected to participate in Cook it Raw in 2012, she stepped onto an international stage with globally-lauded chefs for the first time. She was cast in front of culinary luminaries with the power to turn her into another René Redzepi or Alex Atala. They didn't, and she's received very little coverage since; but in just two months, that might start to change.
On May 27th, she'll kick off the first episode of the second season of Netflix Originals' Chef's Table, the docuseries produced by David Gelb, Clay Jeter, Andrew Fried, and Brian McGinn, and newcomer Abigail Fuller, that applies sharp, cinematic focus to the world's most influential chefs. Her inclusion along the likes of Enrique Olvera and Grant Achatz is as bold a statement as any that she's a chef worthy of international recognition.
What's less clear is how she reached such a peak with more professional experience in international diplomacy than kitchens. And when you take a moment to consider all she has accomplished, both in her 16 years running the countryside restaurant Hiša Franko and around the world, you can't help but wonder: Why isn't everyone talking about Ana Roš?
Source: http://www.saveur.com | AMANDA ARNOLD