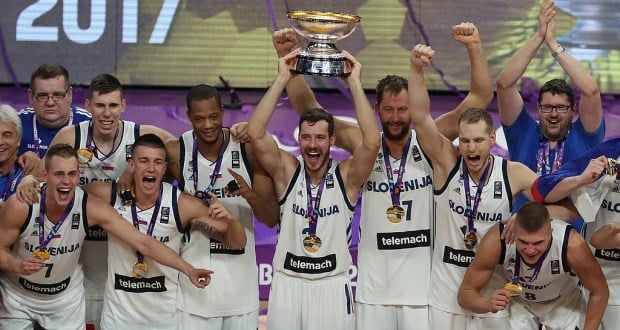 Slovenia's Golden Boys Are The Champions!
Slovenia has gone all the way and has the EuroBasket gold. The country is the European basketball champion, having defeated Serbia in Istanbul with a score of 93:85.
For the first time in history, Slovenia's basketball players have become the EuroBasket champions. In Istanbul's Sinan Erdem Dome, they defeated the Serbian national team with a score of 93:85, despite Luka Dončić's injury in the 26th minute and Goran Dragić's absence in the final minutes because of cramps. However, Dragić did manage to score 35 points before he left the court.
This is the biggest success in the history of Slovenian team sports. Volleyball and handball players (only) managed to win silver at their European Championships.
Dragić saved the best for last
Slovenia has gotten payback and the entire continent is now tipping its hat to the team – most of all to the official MVP of the tournament, Goran Dragić. He played as if he were in a trance and scored 35 points in the final, a record of the tournament. In the decisive minutes, when the Serbian team came back from being 12 points behind, the tired captain was replaced by an exceptional Aleksej Nikolić. Also doing his part was Klemen Prepelič (21 points). Slovenia was spectacular in the second quarter (36:25), which gave it a halftime lead of 56:47, although its rally ended in the third quarter. Serbia took the lead with 77:78, but Prepelič responded just in time with a three-point shot, while Gašper Vidmar helped with a block. Slovenia's gold medal became likely after two free throws by Nikolić for a lead of 90:82. The final score: 93:85 and the gold for Slovenia.
Slovenian fans also played an unprecedented role in this basketball fairytale.
For two years, the entire country lived and breathed for its basketball team. When members of the team began winning game after game, the expectations grew as well. Basketball became the number one topic of conversation at workplaces, schools, and after work. It soon morphed into a euphoria that ended up with a pilgrimage of no fewer than 7000 Slovenian fans to Istanbul, 1500 kilometers away, for the final between Slovenia and Serbia.
Slovenia has become the least populous country to win a medal at the EuroBasket Championship. But that's not all – the 7000 Slovenians in the Sinan Erdem Dome were the second largest crowd of Slovenian fans ever at a sporting competition abroad and, according to FIBA, set a EuroBasket record. The all-time Slovenian record was set at the country's soccer game against Spain at the 2000 Euros in Amsterdam, where 10,000 Slovenians showed up. However, the crowd in Istanbul did manage to surpass Belgrade in 2005, where 5000 Slovenian basketball fans showed up to watch Slovenia take on Greece.
Slovenia's basketball fever escalated after Thursdays win over Spain, when many Slovenians decided: "I'm going to Istanbul, whatever that may cost me." And that's how it all began. There were far too few airline seats available for everyone who wanted to fly to Istanbul, even though the first flight for Istanbul took off from Jože Pučnik Airport before 5 a.m. By 11:15 a.m., nine planes had taken off.
Many fans wouldn't despair even after they were left without tickets – some estimate that approximately 1000 people made the 1500-kilometer journey by car or bus.
Source: rtvslo.si | MMC; translated by J. B., photo: Reuters, EPA